Each of the Princes have a Loveracelet, a bracelet with a coloured, heart-shaped jewel on it, that when kissed makes them undergo the Love Making Transformation to turn into Battle Lovers.
Each of the Princes have a different colour which also corresponds to each element, therefore:
Yumoto's Loveracelet is Red and corresponds to Light.
En's Loveracelet is Blue and corresponds to Water.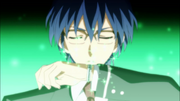 Atsushi's Loveracelet is Green and corresponds to Wind.
Io's Loveracelet is Yellow and corresponds to Earth.
Ryuu's Loveracelet is Pink and corresponds to Fire.
Ad blocker interference detected!
Wikia is a free-to-use site that makes money from advertising. We have a modified experience for viewers using ad blockers

Wikia is not accessible if you've made further modifications. Remove the custom ad blocker rule(s) and the page will load as expected.